St.paul flooring is a brand under Hunan St. Paul Wood Industry Co., Ltd ,which was founded in 1997. It has a history of nearly 20 years, being one of the earlier group of enterprises which dedicated to the manufacturing and research and development of wood flooring professionally. The headquarter is located in Maotang Industrial Park Star City in Changsha, covering an area of 45,000 square meters. It has 3 fully automatic production lines, and its annual production capacity is 6 million square meters. With the advanced manufacturing technology and sophisticated production equipment, our products are all up to the national standard in the sampling inspection of relevant state supervisions and inspection departments. By now, brand St Paul floor of our company has covered 31 provinces, autonomous regions and municipalities in domestic with more than 1000 exclusive stores. Up to now, St.paul has provided more than 30 million square meters floor for the consumers all around the country. more than 600,000 Chinese families are using or would enjoy the high quality service of St.Paul flooring.
St.paul enterprise has passed the ISO9001 international quality system certification, and is a governing unit of Floor Specialized Committee of China National Forest Products Industry Association, a member of National Committee for standardization of man-made board, National standard drafting unit of Laminate wood flooring and Formaldehyde release Limited of interior decoration material artificial board and its products, an initiative unit of Chinese Flooring Industry Convention and Member unit of Hunan province quality and Legal Association. In 1999, St.Paul floor developed molded embossed wide board, known as the aircraft carrier in the flooring industry"; In 2001, the advanced large lab in the industry was built; In 2002, the piano surfaced floor was successfully developed; In 2003, we first launched the Geothermal-proof laminate flooring and was named as a fixed point of unit for the " Laminate wood flooring " in Hunan province and an unit of high quality and integrity in Changsha; In 2004, St.Paul floor was assessed as the national green indoor decoration materials and tracking product of quality and reputation of product in China, and has passed the CQC product authentication and china environment sign certificated product; In 2005, we got the name of consumer-trusted enterprise and was accessed to be the 2004-2005 annual China wood flooring industry excellent brand of influential floor. On December 9 of that year, St.Paul floor accepted the relevant honor issued by the General Administration of Quality Supervision, Inspection and Quarantine of the PRC in Beijing's Great Hall of the People; In 2006, the founder of brand St.Paul joined the draft of national standard of the laminate wood flooring and won the personal achievement" award issued by the flooring specialized committee of China National forest products industry association. St.paul flooring gain the name of "quality trust products" in Changsha, "focusing recommended products" of Hunan province. "quality tracking product", "quality, service and fame AAA grade enterprise", "advanced unit of high quality and credible of China"; In 2007, the sales network of brand St.paul has covered more than 30 provinces and autonomous regions, and more than 1200 county-level markets. In June of the same year, St.paul contracted a real power faction film star as brand image ambassador; In March 2008, the trademark of St.paul gained relative honor issued by the State administration for industry and Commerce; in 2009, St.paul got the name of " Green enterprise" , "Advanced private enterprise" and " garden unit of Changsha ".
In December, 2010, the technology research and development team "Seiko Du" of St.paul took three years to optimized screen from dozens of design scheme and did a lot of experiences. Finally, they successfully launched the "international adopted four-star floor" – that is f ☆☆☆☆ (F4 floor) developed according to the foreign advanced standard , which is widely praised and hot pursuited by the market. St.paul also passed the examination by national relative authorities and became one of the few wood flooring enterprises who got the Adopting international standard product marking certificate, getting the name of second batch of high-tech enterprises in Hunan province announced in2010. at the same time got one invention patent and three utility model patents; In 2011, St.paul got two utilit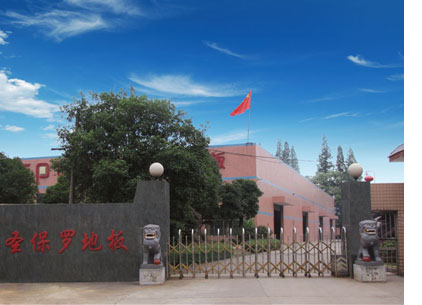 y model patents and was named the National intellectual property pilot forestry unit.
In 2014, respectively invited by the National Technical Committee of standardization for artificial board and the National Standardization Technical Committee,our company joined in the formulation of forestry industry standard of the green artificial board general technical requirements, national mandatory standards GB18580 (Revised Edition) and participated in the drafting of national standards for forestry Technical requirements for heating with wood floors and become one of main drafting units of General requirements for green Panel, formaldehyde release limit of Interior decoration materials artificial board and its products and Technical requirements for floor heating with solid wood flooring. Meanwhile, the development of F4 laminate wood flooring of St.paul won the title of science progress award by Changsha government. St.Paul floor was approved as Changsha green composite floor engineering technology research center. In 2015, Aurora floor of St.paul was on the stock market. And during 2012 to 2015, St.paul was named double ten brand floor by industrial portals.
Every journey begins with the first step. St Paul people make high-quality health floor with their profession and concentration. 20 years of its glorious cast the navigation for wood flooring enterprise, making St.paul a well deserved brand in this line and maintain the advanced position in wood flooring industry around the country. Its production and marketing research, profits and taxes, the level of comprehensive economic benefits are all remain the best among the floor industry in Hunan Province.
Wood itself is not gorgeous, but it becomes classic after being sculpted. St.paul, shengbaoluo, a elegant dancer in the flooring industry, is moving firmly toward the goal of "hundred years brand industry· benchmarking"